At the heart of our solutions is iEDeX™, an innovative technology developed to facilitate data integration and data transformation. In addition to business process integration, iEDeX™ provides a real-time universal platform for B2B collaboration of event-based data. This true many-to-many network service securely transfers data in near real-time. Utilizing an integrated process and platform, iEDeX™ first deconstructs the data into its most basic form, translates it into a universal language, and finally connects the data to any receiving system. This flexibility allows iEDeX™ to move at the speed of your business.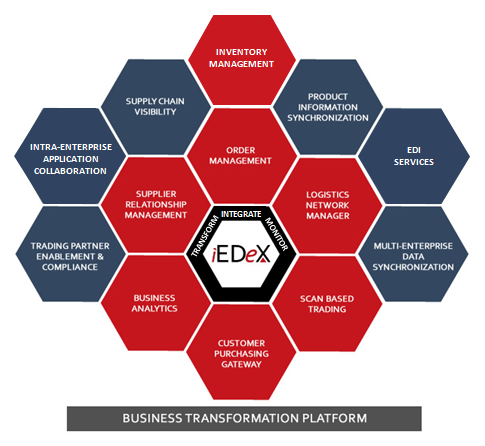 iEDeX Applications

Order Management
Order management enables any party to process and manage their inbound orders. Replacing traditional phone, fax, and e-mail methods, OM automates order generation and fulfillment allowing expanded visibility while simplifying processing and financial reconciliation.

Logistics Network Manager
Logistics Network Manager connects shippers, customers, 3PLs, carriers, vendors, and partners. The application facilitates the procurement of transportation services allowing a unified view into your global shipping activities.

Customer Purchasing Gateway
Creating a cohesive network between distributors/resellers and manufacturers, the Customer Purchasing Gateway enables manufacturers to automate order taking while giving distributors/resellers an online workspace. Through this workspace, manufacturers can provide real-time product visibility.

Supplier Relationship Manager
Supplier Relationship Manager enables you to take control of your vendor supply network, cultivating a closer understanding between the supplier and manufacturer or retailer. Helping to bridge the information gap through collaboration and enhanced visibility tools such as ASNs.

Business Analytics
Harnessing data from the iEDeX™ platform, Business Analytics is a powerful addition to an overall Business Intelligence (BI) solution. This meaningful information promotes better informed management decisions, delivering greater value from your transactional data.

Status 411
Status 411 provides the backroom view of the iEDeX™ platform. Transparency to this unprocessed and processed data allows technical teams to monitor, support, and view the transactions taking place as they occur.
Service Models
There are four basic service models for iEDeX™; B2B Managed Service, Software as a Service (SaaS), Platform as a Service (PaaS), and On-Premise Turn Key solution. Each of the four models have unique advantages depending upon the needs and desires of your business and B2B integration requirements. Part of being a flexible service is having multiple methods of deployment to respond to your ever changing business requirements, while meeting the demands placed upon you by your trading partners and your competitors. The extent of your internal IT capabilities and resources also impacts your ability to respond to new requirements. These business drivers will guide the selection process and aid in determining the appropriate service model for your business.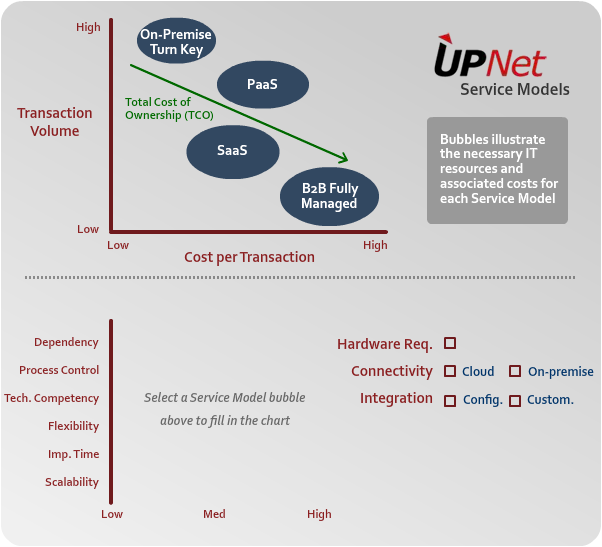 In the SaaS and PaaS models, iEDeX™ requires no software license or new hardware; as upgrades to the services are made you immediately receive the benefit. iEDeX™ does not lock you into any specific configurations and thus does not become a limiting variable in your future software or hardware decisions. As a service, iEDeX™ can expand and grow as your need for data collaboration expands and grows. New solutions can be added to an existing platform without replicating costs of software licenses and hardware.
Our platform is hosted in a secure data center with fully redundant power and communication systems. A complete disaster recovery plan is in place and regularly tested to ensure consistency and reliability.
UpNet makes on-going support available in all service models for the iEDeX™ platform. This ensures that the ongoing data collaboration is done at the highest quality level. From monitoring connections, communications, and translations, UpNet is able to ensure that the full potential of iEDeX™ is delivered every time data is exchanged. iEDeX™'s primary method of deployment within an infrastructure is public cloud, allowing seamless migration between service models as business changes dictate.
B2B Managed Service (SaaS)
Keeping in mind the demands on trading partners while leveraging best-practices and compliance with business partners, UpNet's B2B Managed Service is a fast to deploy and easily configured model that enables businesses to meet their trading partner demands without heavy investment in IT resources or high-cost integration solutions.
Software as a Service (SaaS)
Garnering the same benefits of the B2B Managed Service model, while allowing you to blend your internal IT capabilities, the Software as a Service model facilitates the desire for businesses to carry-out self on-boarding. This shared responsibility and control for trading partner connectivity combines both in-house and outside expertise delivering a fast to deploy, fast to connect solution.
Platform as a Service (PaaS)
When configurable will no longer do, iEDeX™ can expand and grow into a Platform as a Service (PaaS) to allow deeper customization and dexterity in meeting your business demands. Further leveraging your internal IT capabilities to solve your integration challenges and meet your business needs with a cost-effective solution.
On-premise Turn Key
Purchased as an On-Premise Turn Key solution, iEDeX™ is delivered as a licensed software and hardware package. Located within your infrastructure and managed by your IT staff, the iEDeX™ Turn Key solution transfers the responsibility and ownership to you. You have complete control from the hardware all the way through to the end-user experience. UpNet optionally provides remote service management of the platform and full service support on all aspects of the data transformation and exchange environment. Our team works closely with your IT staff to ensure that hardware and the physical environment support the platform SLA requirements. The Turn Key solution is appropriate in many situations including when iEDeX™ plays an essential supporting role in a larger solution.
Dedicated Environment
In order to meet unique compliance and performance standards, some of our clients have chosen a dedicated deployment of the iEDeX™ platform. UpNet maintains the same levels of security, control, and redundancy. A dedicated environment ensures the entire communication, processing, exchange, translation, and storage of data resides on the system infrastructure dedicated to the client.
Although this is a unique instance of our platform, the dedicated environment solutions receives the same high level of full service and support. In a dedicated environment, our client's own their dedicated hardware, but have no additional costs, people, process, and technology.
Mirrored Deployment
A hybrid of the dedicated environment and On-premise Turn Key solution, the mirrored deployment provides for a fully supported, dedicated deployment in the UpNet data center while running a mirrored instance in real-time and processing data in the on-premise deployment. UpNet provides full support to the dedicated environment and remote service management of the on-premise deployment. The client owns the related hardware and maintains the hardware in their location.
Architecture
UpNet's innovative technology leverages multitenancy as well as multiple instances to form an architecture that can be scaled to meet the capacity of any business need while being agile enough to connect, collaborate, and continue at the speed of your business.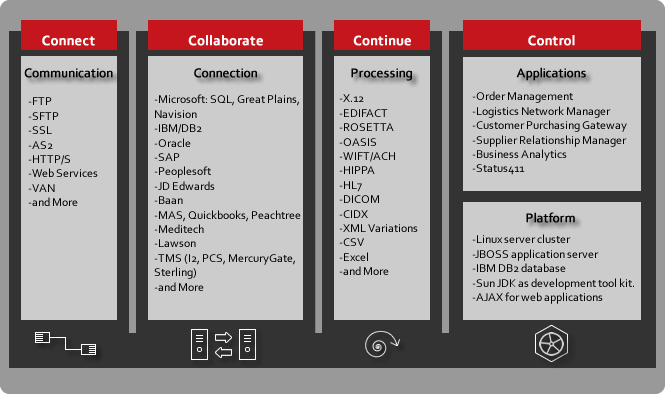 Communication Server
Multiple communication protocols are available to meet the demands of various protocols used by businesses: FTP, secure FTP (SSH), SSL, AS2, HTTP/S.
Pickup and delivery options can be accomplished via remote server, local host, and traditional EDI VAN such as GXS, Sterling Commerce.
Meet compliance and enable data communication protocol exchange to satisfy receiving systems requirements. (For example from FTP to AS2)
Messaging Service
JMS compliant JBOSS MQ messaging service for routing messages to designate processing servers.
Processing System
Scalable transaction processing capability:
Enabling data transformation between EDI, XML, Excel, fixed length, and delimited file structures.
Custom developed data dictionary allows separation of origin and destination data transformation objects. This enables many-to-many mapping and allows re-usability of all mapping objects.
Utilizing extensive imbedded functions to allow complex data transformation.
Ability to engage pre and post processors to further enhance the capability of complex data transformation needs.
Process Logging enables true end-to-end visibility; as each transaction is processed through the

iEDeX™

system it is logged at each check point collecting the processing status, location of the archived file, and errors if any.
Command and Control System
Actively monitors the health of components in the process pipeline to ensure all messages are processed and delivered in a timely manner.
Email alerts are generated for any inconsistency detected.
To ensure uptime, scheduled heartbeat messages monitor the health of the monitor.
Web-based Tracking System
User authentication and role based security ensuring only the allowed information is available for reviewing.
Allowing the users from both sending and receiving parties to track and troubleshoot activities.
Web-based Administration System
Allows remote access to administration functions for managing trading relationships, data transformation requirements, delivery options, and security parameters.
Frequently Asked Questions
iEDeX™ Technology
What type of systems does the
iEDeX™

technology connect?

iEDeX™ technology was designed to facilitate the near real-time collaboration of data between standalone systems like ERP's. iEDeX™ performs with any system that has the ability to import and export data.
What is the
iEDeX™

technology platform?

The iEDeX™ Technology Platform is comprised of five components:
Linux server cluster
JBOSS application server
IBM DB2 database
Sun JDK as development tool kit.
AJAX for web applications.
What are the systems modifications required to use
iEDeX™

?

None, iEDeX™ technology will work with the system's existing import and export function. The only programming that will need to be done to an existing system is to ensure that the business rules driven events are currently being processed by the system. In the extremely rare situation that these business rules events are not processed, a simple agent can be designed to ensure that the system is importing and exporting the data necessary to comply with the business objectives.
Does
iEDeX™

work in an online environment?

Yes. As a hosted solution, iEDeX™ excels in an online environment and can quickly and securely facilitate the collaboration between event-based data generated by multiple online applications.
What type of system do you have experience connecting?
iEDeX™ has the ability to connect any system with the ability to import and export data. Systems such as:
Microsoft: SQL, Great Plains, Navision
IBM/ DB2
Oracle
SAP
Peoplesoft
JD Edwards
Baan
MAS series, Quickbooks, Peachtree
Meditech
Lawson
TMS (I2, PCS, TMW, MercuryGate, Sterling TMS)

iEDeX™

is also currently connecting over 100 custom built applications.
What are the different protocols that
iEDeX™

can use to communicate with the connected systems?

Multiple communication protocols are available to meet the business demands:
FTP
Secure FTP (SSH)
SSL
AS2
HTTP/S
Web Services
VAN
What are the different pick up and delivery options that
iEDeX™

can use to communicate with the connected systems?

iEDeX™ can use either a push or pull options with any communication protocol.
What data standards does the
iEDeX™

technology support?

iEDeX™ has the ability to support any individual, or combination of data standards. Examples of standards currently being supported on the system are:
X.12
EDIFACT
ROSETTA
OASIS
WIFT/ACH
HIPPA
SNOMED
HL7
DICOM
CIDX
XML and Variations
In addition, we support all commonly used standards
Once a specific standard map has been developed is it reusable?
Yes, we have experience using multiple data standard requirements within an individual data exchange. The configurations of standard maps are independent of the actual customer data and are therefore easily and securely reusable.
iEDeX™ Highlights
Can you meet regulatory standards like HIPPA, or Sarbanes-Oxley?
Yes, regulatory standards are a set of business rules and are easily managed by iEDeX™. Because many of these standards rely heavily on transparency and the ability to audit, the unique approach of iEDeX™ provides unparallel opportunity to meet and exceed these standards.
Can you meet quality improvement standards like Six-Sigma?
Yes, quality improvement standards are a set of business rules and are easily managed by iEDeX™. Because many of these quality improvement standards rely heavily on transparency and the ability to provide feedback reports, the unique of approach of iEDeX™ provides unparallel opportunity to meet and exceed these standards.
How is transparency and auditability achieved?
Every unique data exchange is time stamped and simultaneously translated into and recorded into a web accessible database. This new base of data is configurable and presentable in any desired format. The result is complete transparency from both the sending and receiving systems. When combined with internal system data it provides complete transparency to all aspects of the workflow. These reports can then be presented either periodically or in real-time, providing management the ability to fully audit all aspects of the collaboration of data between the systems.
How do you maintain security?
There are separate layers of security; communication, infrastructure, and application layers of security. Within the communication layer our security design includes all the security protocols, intrusion detection, and maintains all security patches. Within the infrastructure security we have firewall, DMZ zone, and maintain all operating system security patches. Our data center is hosted in a commercially secure facility with controlled physical access. The application level is divided by both application and account-user security layers.
Who owns the "business rule" intellectual property?
The client does. The business rules that are developed for the client to guide the exchange of their data are part of the client's intellectual property. As with all of the data that passes through the iEDeX™ platform, your data is confidential and secure within our system.
What was your uptime over the last three years?
UpNet's system has maintained a 99.9999% uptime over the last three years.
What type of back-up does your system have?
The entire system is being mirrored in real time to ensure necessary redundancy. In addition to mirroring, the entire iEDeX™ network is backed up by disk, tape, and off-site storage.
How can your system scale?
We are currently managing over 30 million transactions per month. Due to the n-tiered cluster designed architecture, our system can easily scale without any loss of individual client functionality. The systems limits of our current design are estimated to be at least 25 billion transactions per month across the entire network.
iEDeX™ Principles
What is the process for changing systems in the solution?
iEDeX™'s many-to-many connection attribute allows for a new system to be integrated without disconnecting the old system. The systems can be run in parallel through testing. Migration can happen at an operational level with full data integration occurring simultaneously within both systems. This allows for faster and more secure integration of the new system.
Why does
iEDeX™

deploy faster than traditional system integration?

There are three factors that contribute to UpNet's ability to deploy faster than a traditional map-based one-to-one programming:
Programming: Rather than programming new software which needs to work with pre-existing systems,

iEDeX™

focuses on collaborating the data you need to get your work done.
Event-based: Rather than map out all of the business processes,

iEDeX™

utilizes the existing individual events that drive the production of data elements. This innovative approach maximizes flexibility and reduces the time to implement.
Testing: Reduced complexity and removing the customization of either the sending or receiving system dramatically improves time-to-value.
What are the value drivers?
There are five primary value drivers when comparing the iEDeX™ solution with other options:
Flexibility: The

iEDeX™

platforms ability to run parallel exchanges, quickly change systems of origin, and provide complete transparency provides an unmatched level of flexibility. In quickly changing market places, UpNet provides the confidence of knowing your technology will be able to change and adapt with you.
Reliability: The

iEDeX™

technology removes layers of complexity and provides a more consistent high quality data collaboration. This allows your solution to be operational in the marketplace quicker
Service: Year after year, UpNet's customers consistently report high quality and responsive service. In fact, we have never lost a customer, and all customers are fully referencable.
Cost: Less time to develop means real savings. The overall cost of

iEDeX™

when compared with the time, programming, licenses and support of other solutions will always represent at least a 30% savings.
Indirect Sales Channels
Do you offer reseller accounts?
Yes, we offer qualified companies the opportunity to integrate the iEDeX™ technology into new or pre-existing solutions and resell this bundled solution to their customers.
Can it be private labeled?
Yes. We offer resellers of solutions that have been customized using the iEDeX™ technology the opportunity to completely private label this solution to their customers.