Companies are no longer the masters of their own destiny. They're dependent on suppliers, service providers, customers, and many other external parties to succeed. UpNet's iEDeX™ platform as a service (PaaS) leverages a suite of business applications to enable process management and collaboration. The suite provides automation to your business, creating increased efficiency and effectiveness through control and compliance.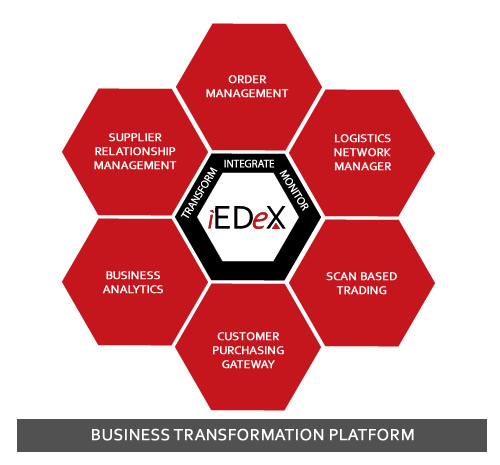 Distributed Order Managment (DOM)
UpNet's Distributed Order Management (DOM) system is an on-demand SaaS application designed to enable vendors/manufacturers to perform order-to-invoice functions in an e-commerce environment, without having to invest up-front resources and time for system development and implementation. Our capabilities are delivered directly into your ERP, PIM, or through any internet browser enabling a single record of truth between your internal systems and your customer's systems. Eliminating errors from your transactions, you can dramatically improve the quality of data used by downstream business processes such as invoicing, logistics, and procurement. With greater visibility and real-time management of orders, you can achieve the perfect order; right price, right quantity, right time.
Orders are received electronically, translated, and posted into DOM's database. The recipients can login to the DOM system to review, accept/reject, and allocate (commit) the orders. Once the orders are allocated, the system will prepare the paperwork necessary to ship the orders: pick list, packing slip, bill of lading, and barcode shipping labels. The user has the ability to send electronic advance shipment notifications (ASN) to the purchaser and electronically invoice the purchaser. In addition to using DOM to process their orders, the user may update their internal system with the order and invoice information. The system is capable of generating user defined interface files at the same time the data is updated in the DOM database.
Order Visibility
Orders are automatically processed and loaded onto the OM database as soon as they are received by the iEDeX™ platform, at which time email notifications can be triggered to alert appropriate parties of new pending orders. The recipients can log onto the OM system to review, accept/reject, and allocate (commit) the orders.
Order Management & Processing
The system will calculate the cases, pallets, and trucks needed for the shipment in conjunction with the product allocations you define. OM will assist your shipping operations by preparing the paperwork needed for the shipment, making the shipping data available for sending ASN (Advance Shipment Notification) to the buyers, if requested. When the users don't need the Order Management system to provide shipping assistance or an ASN, the system can be configured to go from receiving orders directly to invoicing.
Order Reconciliation & Invoicing
Financial settlement is facilitated through OM in addition to integration. The system automatically generates sequential invoice numbers, numbering can be customized to match your current invoicing scheme.
Tools
Product Table — The Product table contains product specifications such as; product description, GTIN, UPC, UCC, case, pallet, cube, weight, NMFC number and class, and cost.
Carrier Table — The carrier table stores the carrier name and SCAC (Standard Carrier Alpha Code) for use during the order management and processing phase.
Document Library — Aiding in the shipping operations phase, the document library automatically generates the required documentation in downloadable PDF format. The users can access the Pack Slip, Pick List, Bill Of Lading, and Barcode Shipping Labels.
Report Generator — The Order Management system provides the reporting function which enables the user to generate a selection of management and operation reports.
Search Function — OM's search function queries the database to facilitate record location based on one or more parameters.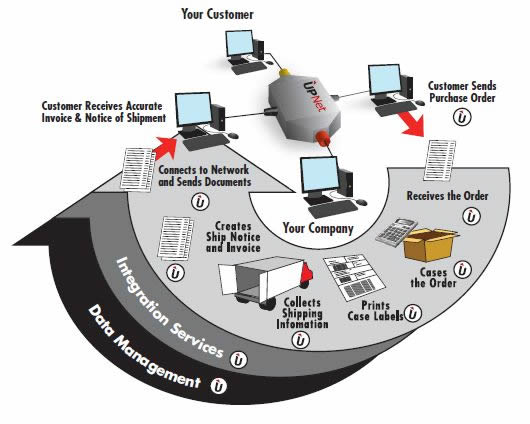 UpNet's integrated Customer Compliance solution utilizing OM provides complete management transparency and accountability for customer activity and transactions. This workflow driven approach enables you to comply with the various requirements imposed by your customers, eliminating non-compliance penalties, reducing errors, increasing operational efficiency, and improving your speed to market.
Values
Focus on business issues and problem solving, instead of order entry activities
Reduce rush orders and improve transportation efficiences
Streamline business and communication processes with your customers
Improve operational efficiency through error free orders
Increase customer satisfaction with enhanced order accuracy
Reduce carbon footprint to meet customer sustainability goals
Features
Fully automates your order management process
Supports all order types including open POs and change orders
Unified visibility of customer orders
Continue to process orders without changing your current business practices
Automatically generate necessary shipping documents
Prepare, track and expedite back orders, case orders and new orders for shipping
Send advance shipping notices and invoices
Customer Purchasing Gateway (CPG)
UpNet's Customer Purchasing Gateway (CPG) is a cost effective, self-service application that allows sellers (suppliers/manufacturers) to provide a comprehensive order-taking e-Commerce solution to their buyers (distributors/resellers). B2B customers expect a self-service workspace that provides a convenient way to place new orders and view their order histories. As with B2C e-Commerce, this allows you to stay open for business around the clock and delivers a first-rate customer experience.
Delivered on-demand as a customized add-on to an ERP, PIM, or order processing solution, the Customer Purchasing Gateway's interactive workspace allows buyers to view personalized product catalog, select products, view shopping cart, place orders, view order status and history, and perform remittance and payment. This web portal is private, branded, and all inclusive for the buyer's order placing activities, facilitating the perfect order; right price, right quantity, right time.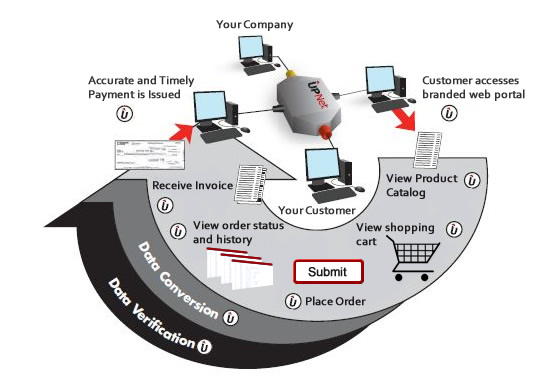 Values
Enhanced customer control over purchasing decisions
Improve operational efficiency through error free order submissions
Ensure ease of use for buyers
Eliminate manual bottlenecks
Increase accuracy of fulfillment
Empower trading partner collaboration
Features
Consolidated location for order activities
Facilitates order taking and processing
Online product catalog
Buyer centric price and SKU listing
Shopping cart and checkout
Real-time visibility to product detail for buyers
Password protected access to interactive workspace
Purchase-to-Pay (P2P)
UpNet's comprehensive SaaS solution extends your ERP systems, connects all users through one flexible interface, and automates your entire Purchase-to-Pay (P2P) process. Within the same interface, you can quickly connect and collaborate with suppliers for all goods and services, and process every purchase from inception to completion. You will achieve greater compliance when you have more control and visibility. With greater efficiency than ever, you're able to buy the right goods and services from the right suppliers, all at the right time and price.
Purchase-to-Pay (P2P) solution sends purchase orders, receives order confirmations, collects ASNs, posts and reviews the receipt of goods and services, identifies and notifies exceptions, accepts and verifies invoices, and issues accurate and timely payments. P2P provides all the necessary tools and information end-users need to manage their day to day business activites. Status411's transaction lifecycle reports offer a complete view of every transaction and provide management the timely information they need.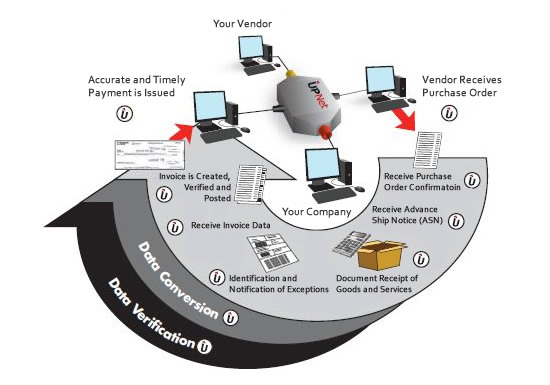 UpNet's P2P solution is tailored to fit your current business practices and purchase-to-payment workflow. This customization by UpNet's professionals requires no additional software or staff investments. Our capabilities are delivered directly into your ERP, PIM or through any internet browser.
Values
Drive compliance
Enhances trading partner collaboration
Expanded control and visibility
Works with current EDI processing
Ensures proper authorizations for purchase orders, invoices and vendors
Confirms that goods and services received match goods and services ordered
Avoids duplicate payments and ensures proper payment validation and authorization
Reduces follow-up phone calls and email requests
Enables an error-free P2P process
Features
Sends purchase orders
Identifies inappropriate purchase authorization, over-limit or unauthorized requisitions
Receives order confirmations
Collects ASNs
Posts and reviews the receipt of goods and services
Identifies and notifies exceptions
Accepts and verifies invoices
Identifies inaccurate or un-issued credit memos
Issues accurate and timely payments
Status411 reports
Supplier Relationship Management (SRM)
UpNet's comprehensive Supplier Relationship Management (SRM) solution simplifies and streamlines supply chain operations, efficiently manages inventory, standardizes communication, and reduces supply chain costs by managing business interactions with all of your suppliers, contract manufacturers, and off-shore sourcing partners. UpNet's SRM standardizes the free flow of business information to enable effective communication between you and your suppliers—even if they use different business practices, terminology, and technology.
Our SRM solution incorporates best practice methodology and software to support the information flow component of supply chain management. The capabilities provide full visibility of inbound logistics including order management, vendor compliance, and order tracking status delivered directly into your ERP, PIM, or through any web browser.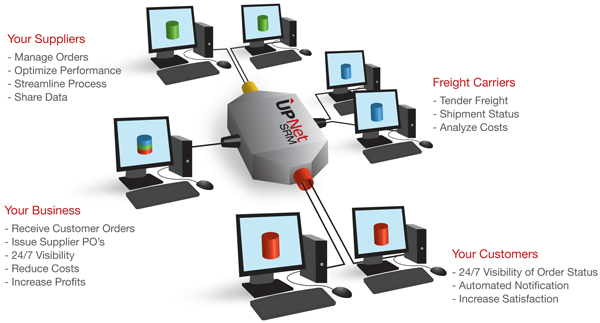 Values
Achieve visibility to goods in route
Improved business relationships and customer service
Reduced costs / Increased cash flow
Higher accuracy of supplier fulfillment
Enhanced inventory management and accuracy
Increased productivity through shipment visibility
Better management of the receipt of goods
Reduce paper usage and cost of storage
Anywhere access to real-time visibility
Error-free communication
Features
Automated Advance Shipment Notices (ASN)
Full inbound logistics visibility
Vendor compliance automation
Inventory management
Automated freight bill invoicing and payment
Real-time tracking
Event management
Business partner network
e-Invoicing and Payment
UpNet's e-Invoicing and payment solution processes invoices and makes electronic payments; ensuring the right information, at the right interval, with the right security. Through the combination of automation and simplified business processes you can replace inefficient manual approaches, ultimately eliminating data problems and increasing your accuracy.
Starting with the creation and submission of the invoice, the e-Invoicing solution enabled by the iEDeX™ platform introduces a secure channel for the flow of invoicing, payment, and remittance information. After the buyer accepts and approves the invoice, an EFT transfer is initiated allowing the financial settlement of the transaction. Supporting remittance advice is sent via fax, e-mail, or electronic methods.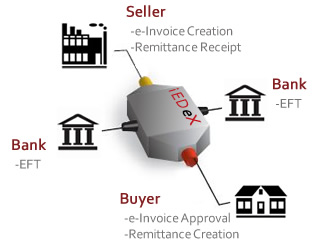 Values
Elimination of paper invoices and paper checks
Ensures fast, accurate, electronic payments
Minimizes potential exposure of financial information
Eliminates inaccuracies and payment discrepancies
Removes costs associated with manual invoicing process
Focus on the business, instead of problem resolution
Features
Automates data entry for accounts receivables and payables
Integrates payments with your accounting system
Automated electronic invoicing
Electronic remittance advice
Secure communication channel
New Business Analytics Tool
By leveraging iEDeX™ innovative technology and unique features, UpNet has been able to customize a Business Analytics tool which harnesses data and delivers meaningful information. Business Analytics is a powerful addition to an overall Business Intelligence (BI) solution. Augmenting existing BI initiatives with expanded visibility to all parts of the supply chain, it will also provide a powerful solution for a company's first BI tool. Converting existing transactional data into valuable business information, management decisions will be informed by real-time information.
The Purpose of Data. The Creation of Information.
Organizations are swimming in data. Data about customers, suppliers, products, services, costs, prices. There is real-time data, episodic data, time sensitive data, and batch-based data feeds. There are data trends, analysis, and projections. In the end the data is not worth anything, until it is applied in a manner that supports the business goals.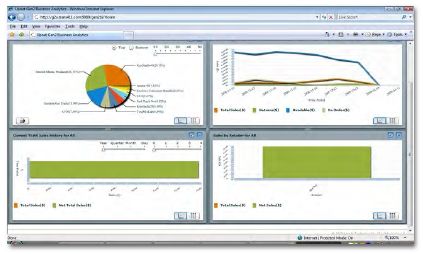 Visibility to Data that Works
The data of an organization needs to work to support the business objectives. Data needs to be compiled and delivered in a manner that supports the time-sensitive decisions management needs to make about their business. The limits of programming weeks, project months, and software dollars should not be a barrier to getting data into the information to support critical decision making. Management's need for data that works is far too often met by excuses about the limitations and inflexibility of the current system deployments.
UpNet's Business Analytics tool is currently being used by customers to provide real time reporting on critical customer purchasing, store and product movement trends, and projections of future sales trends.
Values
Makes it easy for users to freely explore business information by interactively drilling into and cross-tabulating data.
Provides speed-of-thought response times to complex analytical queries.
Present multi-dimensional data and allow users to select what data elements to explore.
Dashboard offers real-time view into data as it is processed.
IT spends less time responding to requests.
Business users spend less time looking for information.
Features
Cube based data analysis
Mass customized reoccuring reports available
Dashboard provides real-time view as data is processed through

iEDeX™

platform
Role based visibility
Merge external data with processed data for analytics
Export analytics to common file formats
Case Studies
One Source Logistics capitalizes on a market opportunity
Capitalizing on a market opportunity.
One Source Logistics was founded during the summer of 2003. Our vision for the Company is to help Small to Mid-size companies grow their business by leveraging best of practice logistics to create competitive advantages in the small business market. Through 41 years of experience in managing and optimizing logistics service for 100's of customers, One Source's management is well equipped to save their clients substantial time, provide significant cost benefits and offer competitive advantage over traditional methodologies deployed by other "logistics" firms. Our goal is simple - we will provide exceptional customer service and deliver outstanding results the first time and every time.
Foam Industries discovers Scan-Based Ordering
Simplified customer order process to deliver exceptional service.
Foam Industries has been creating quality products for over five years and established themselves as a premier foam, wood and plastic product supplier. In addition to offering a full line of products including Antistatic Foams, Corrugated Plastics, Certified HT Lumber, Corrugated Boxes and many more, Foam Industries also offers many capabilities to meet any company's custom needs including Lamination, Foam Die Cutting, Plastic Die Cutting, Engineering and Design, Plastic Sonic Welding and more.
PruGen, Inc. nurtures a wave of growth
Controlling a connectivity network to nurture a wave of growth.
PruGen, Inc. was founded with one vision in mind. That vision is to provide alternatives to higher priced branded products. With the cost of branded products soaring, PruGen, Inc. aims to provide low cost alternatives to brands that may not have generic alternatives.
Fox Packaging
Fox Packaging Fulfills Customers Compliance Requirements with UpNet.
Fox Packaging staffed an internal EDI team that struggled to effectively communicate purchase to payment information with over 40 customers. They even had to rely on the support of external consultants to keep up with programming and testing. Fox Packaging was no longer able to maintain relationships with customers including all the big box retailers. In addition, the internal team had a difficult time keeping up with the constantly changing rules and requirements of every customer. Multiple portals required unique programming. Different systems required Fox Packaging to set up parallel workflow systems. Soon, the costs rose sharply and compliance became a significant issue. They were close to losing one of their biggest customers.
That's when Fox Packaging chose to partner with UpNet Technologies. UpNet was able to quickly deploy solutions across the entire customer chain to immediately address customer concerns. By acting as an extension of the Fox Packaging EDI department, UpNet's solutions freed up the resources of the internal IT team to focus on mission critical functions while at the same time allow Fox Packaging to maintain a single business workflow and comply with every one of their customer's unique rules and requirements.